LOS ANGELES AND REGION
LAUSD Charter Schools See Improved Test Results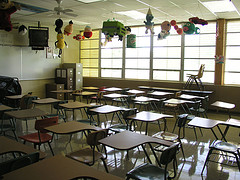 Classroom (Creative Commons)
The Los Angeles Unified School District may be touting its new, multi-million dollar Robert F. Kennedy Community Schools
complex
, but three Alliance College-Ready Public Schools are stealing the spotlight.
Alliance schools, an LAUSD charter school programthat serves low-income and minority students from the city's historically underachieving and overcrowded communities, has three schools ranked among the top ten high schools in the LAUSD, according to test results released Monday. The program, which was formed in 2004, enrolls about 6,000 students at 18 Los Angeles sites and focuses on monitoring and improving student performance.
The top-performing schools were determined by the Academic Performance Index, which measures school performance based on several tests administered to students in grades 2 through 11, with scores ranging from 200-1000 and 800 being considered the target score. Some highlights from the results:
College-Ready Academy High School #4 scored 883 on the API, ranking it #4 among 133 LAUSD high schools listing results. Environmental Science and Technology High School scored 859, ranking it #7. Gertz-Ressler High School scored 853, ranking it #9.
Those scores exceeded the LAUSD high school average by 175 or more points, and topped the statewide high school average by 124 or more points.
Three-quarters of Alliance schools – 12 of 16 – performed above the LAUSD average for their school type.
Every Alliance high school and 80 percent of middle schools outperformed neighboring traditional public schools. On average, Alliance API scores were 155 points above those of neighboring traditional schools.
"These strong results only deepen our belief that all students can excel in the classroom and graduate from college," said Alliance President and CEO Judy Burton. "We look forward to continued academic improvement during the new school year."
Guilbert C. Hentschke, former dean of the USC Rossier School of Education, said these scores are a result of the schools executing a basic plan.
"They are focusing on personalized instruction for each student and doing things differently depending on how the student performs," he said.
Hentschke added that tracking each student's performance and providing support to the teachers are not dramatic concepts, the Alliance schools are just executing them well. If the schools keep following this education plan, Hentschke sees the upward trend in performance continuing.
"There's nothing like success to keep you motivated," he said.